There are many different methods used to process cannabis and obtain its active ingredients. As far as cannabis users are concerned, the primary difference between the various processes is: which components from the original plant remain in the final extract? Is it a single cannabinoid, a combination of cannabinoids and terpenes, or a combination of many different compounds found in the original plant? Cannabis cultivators and manufacturers also care about the yield and purity of the final extract: how many milligrams of cannabinoids are generated from the original plant, and is there any residual plant matter left in the extract?
Traditional healthcare providers view purity as the gold standard for any medication. A purified compound contains no impurities that may generate undesired and/or unexpected outcomes. Whole plant advocates, on the other hand, believe that medications taken in whole plant form, that is, with all the compounds naturally found in the plant, are best, because all the compounds work together in our bodies to generate optimal outcomes.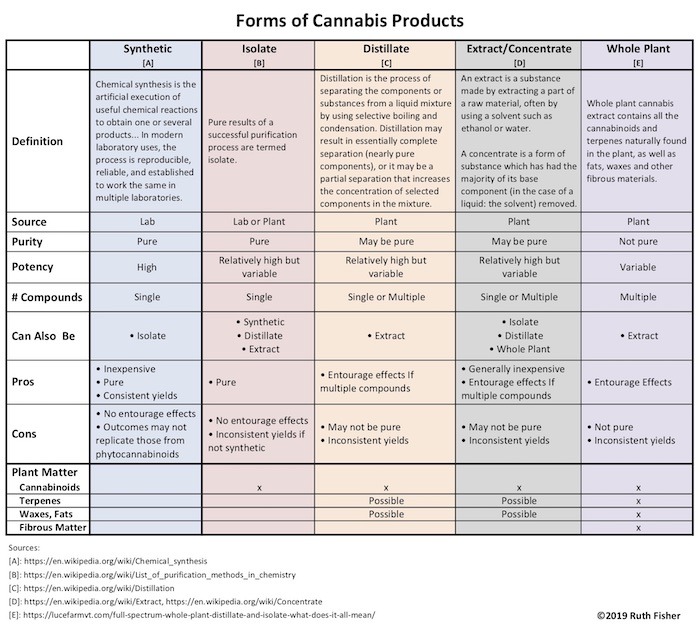 Click for larger version
Synthetic Cannabis
Synthetic cannabinoids are made in a lab. Scientists use cannabis plants to understand the molecular structures of cannabinoids (phytocannabinoids) found in plants. They then reproduce those plant compounds in a lab using chemicals. When cannabinoids are synthesized, the output is a single compound (an isolate) that is pure (uncontaminated by another compounds). In short, synthetics are purified, isolated, man-made compounds.
Pros: Synthetic cannabinoids are relatively inexpensive to make, they're pure, and their yield is predictable and consistent from batch to batch.
Cons: Synthetic cannabinoids may not be exactly the same as phytocannabinoids, in which case they might not generate identical user outcomes. When used in synthetic form, isolates also don't generate entourage effects like whole plant extracts do.